We are located on level 1 of a modern red brick building, named Lancaster Hall. The address is Little Hanover Street 6.
To get there, if you arrive by taxi, ask the taxi driver to drive to Washington Street. If you arrive on Washington from the direction of Grand Parade (i.e. from the city center) then you need to look out for a cinema on the right hand side.
The cinema is named Kino and indicated with a large vertical sign (a picture of the Kino <http://www.foundmark.com/ito/Corkcity-Online/tour/pages/013.html>), which however is taken from UCC in the direction of the city centre as opposed to the direction described above). The Kino is on the corner of Washington and Little Hannover Street. Little Hannover Street is a one way street, so the taxi will need to go around the block or drop you off at the Kino corner.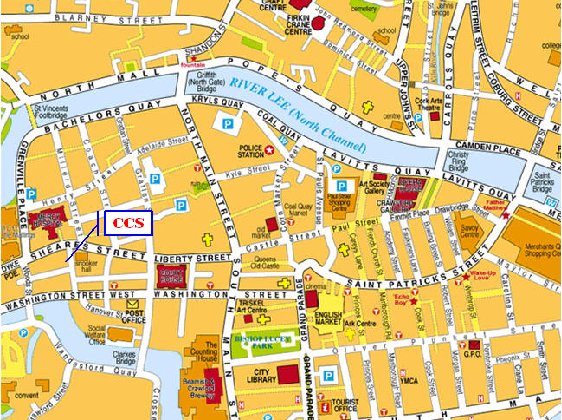 National University of Ireland, Cork.
University College Cork
University College Cork is currently the largest grant attracting institute in Ireland. The university has an important legacy in Logic through its first professor of Mathematics, George Boole. Several research centres at University College Cork carry out investigations on the interface of Mathematics and Computer Science, including 4C and the Boole Centre for Research in Informatics (BCRI). University College Cork's campus is worth a visit in its own right, with an Oxford style quadrangle building at its center. Its characteristics include well kept gardens with many stately older trees and a main gate with a bridged entrance over the river Lee.
<![if !vml]>
<![endif]>

Cork city

Please note that the currency for the Republic of Ireland is the Euro. The South of Ireland is one of the most beautiful regions in the Republic and benefits from the gulf stream.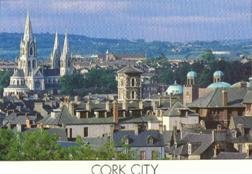 Cork, the second largest city in the Republic, is a historic city with many cultural activities. Cork will be the European capital of culture in 2005 and has many attractions in its immediate vicinity, including Blarney Castle and Woolen Mills, Kinsale harbor and gourmet centre, unspoiled European blue flag beaches, splendid golf courses and many lively coastal towns of historic interest.