PHP: Sessions
Derek Bridge
Department of Computer Science,
University College Cork
PHP: Sessions
Aims:
to learn what a session is
to learn how PHP uses in-memory cookies for session management
to see how to program sessions in PHP, using two simple case studies
The full shopping cart system: cart.zip
(Remember to edit $host, $user, $password and $dbname)
Sessions
A session is a sequence of requests from the same client within a short period of time
Although the user may access different pages from the web site, we may want to

track the client, i.e. identify which client is making requests
maintain user-specific information across the pages visited

Example: a shopping cart
Sessions in PHP
You could write your own PHP to use cookies to keep track of sessions
But PHP has built-in support for sessions

your PHP invokes some simple functions that indicate what data you would like to maintain from one page to the next
PHP handles all the details (e.g. cookie manipulation) for you
Sessions in PHP
Any PHP script that wants to use sessions begins with a call to the session_start function
What does the function do?
If this is the start of a session (the first time a client has sent a request), it creates a new session:

it generates a unique number, called the session ID
it stores the session ID, usually in a file on disk
for each session ID, it also creates a data store, where it can maintain data about this session
it arranges for the session ID to be sent back to the client as an in-memory cookie

Question: Just to be clear: how can it tell that this is start of a session?
Sessions in PHP
What does session_start do? Continued…
If this is not the start of a session (a subsequent visit), it restores the session:

the client will have included the session ID cookie in the request
hence PHP can identify this client and its data store
it loads data from the data store into an associative array: $_SESSION

The rest of your script can now use the data in the $_SESSION array, or put new data into the array
You must invoke session_start before any HTML is generated Why?
counter.php: simple example
Counting the number of times a page has been accessed by a client

<?php 
    require_once( 'output_functions.php' );
    session_start();
    if ( ! isset($_SESSION['num_visits']) ) 
    {
        $_SESSION['num_visits'] = 1;
    }
    else 
    {
        $_SESSION['num_visits']++;
    }
      
    output_header( 'Welcome!', 'stylesheet.css' );
    output_paragraph( "You have visited this page {$_SESSION['num_visits']} times" );
    output_footer( 'University College Cork' );
?>
Compare this with our previous version! Compare (a) the code, (b) the behaviour, and (c) what gets stored where
Sessions in PHP
By default, PHP uses cookies for sessions

Q: What if the user has disabled cookies?
A: PHP can be configured to switch to using URL rewriting in these circumstances - without the programmer needing to know which is being used

By default, PHP uses in-memory cookies for sessions

Q: What if I want persistent cookies instead?
A: It's possible to configure PHP to use these instead
A: But in that case it may be better to use the facilities we saw in the previous lecture instead or as well
Session in PHP: advanced notes
There are more functions, few of which you will ever need:

session_register to explicitly register a variable
session_unregister to remove a variable from the data store
session_is_registered to determine whether a variable is registered
session_id if you want to see the unique session ID
session_destroy: removes all data from this session's data store (it doesn't affect the cookie, which is client-side)
Case study: a very, very, very simple shopping cart
Suppose our company Shrine of Bacchus Wines sell wines, listed in this database:

CREATE TABLE wines 
(
    id INT NOT NULL AUTO_INCREMENT,
    name VARCHAR(255) NOT NULL,
    price DECIMAL(5, 2) NOT NULL,
    PRIMARY KEY (id)
);
Overview of the scripts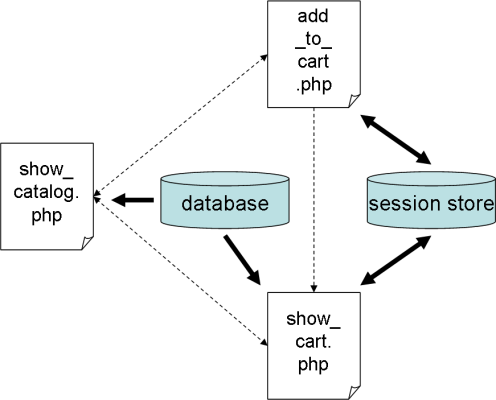 Displaying our wine catalog
The product catalog page lists all the wines we sell:

<table>
    <tr>
        <td>Dingo Dribble</td>
        <td>12.33</td>
        <td><a href="add_to_cart.php?id=1">Add to cart</a></td>
    </tr>
    …
</table>
(Obviously, this table is produced from the database by a PHP script: show_catalog.php)
This page also contains a link:

<a href="show_cart.php">Show cart</a>
add_to_cart.php: adding to the shopping cart

<?php
    require_once('output_functions.php');
    
    // If this is an on-going session, obtain the $cart array.
    // If it's a new session, create an empty array
    session_start();
    if ( isset($_SESSION['cart']) )
    {
        $cart = $_SESSION['cart'];
    }
    else
    {
        $cart = array();
    }
 
    // Get the id of the item being added to the cart
    $id = (int) $_GET['id'];
 
    // If this item is in the cart already, then increment the quantity.
    // If not, insert it.
    if ( isset($cart[$id]) )
    {
        $cart[$id]++;
    }
    else
    {
        $cart[$id] = 1;
    }
 
    // Put the revised cart back into the session store
    $_SESSION['cart'] = $cart;
    
    output_header( 'Item successfully added to your cart', 'sbw.css' );
?>

    <p>
        <a href="show_cart.php">Show cart</a>
    </p>
    <p>
        <a href="show_catalog.php">Show catalog</a>
    </p>

<?php
    output_footer( 'Shrine of Bacchus Wines' );
?>
show_cart.php: displaying the shopping cart (simple version)

<?php
    require_once( 'output_functions.php' );
    
    // If this is an on-going session, obtain the $cart array.
    // If it's a new session, create an empty array
    session_start();
    if ( isset($_SESSION['cart']) )
    {
        $cart = $_SESSION['cart'];
    }
    else
    {
        $cart = array();
    }
    
    output_header( 'Your cart', 'sbw.css' );
    if ( count($cart) == 0 )
    {
        output_paragraph( 'No items in shopping cart.' );
    }
    else
    {
        echo "<table>";
        foreach ($cart as $id => $qty)
        {
            echo "<tr>
                    <td>{$id}</td>
                    <td>{$qty}</td>
                  </tr>";
        }
        echo "</table>";
    }
?>

    <p>
        <a href="show_catalog.php">Show catalog</a>
    </p>

<?php
    output_footer( 'Shrine of Bacchus Wines' );
?>
show_cart.php: displaying the shopping cart (better version)
A better version of show_cart.php would take each product in the cart and look it up in the database so that it can output not just the id and quantity but also the name and price