Dynamic Web Pages
Derek Bridge
Department of Computer Science,
University College Cork
Dynamic Web Pages
Aims:
to know terminology about programs
to know the difference between static and dynamic web pages
to understand a simple PHP script
to understand how the server and the PHP processor handle PHP scripts
Terminology
Algorithm: definition from CS1105
We can express an algorithm

in English (Class exercise: What's the problem?)
in pseudocode (structured English) (Class exercise: Is there still a problem?)
as a program by coding it in one of many programming languages (e.g. PHP, Java, C, C++, JavaScript,...)

The program can then be executed or run by a computer
PHP: our programming language for first-year students
PHP originally

stood for "Personal Home Page" Tools
developed in 1994 by Rasmus Lerdorf for logging accesses to his web site

PHP now (Version 5)

stands for "PHP: Hypertext Preprocessor"
developed and used by a large community (> 2.5 million people)
is a fully-fledged programming language but mostly used for server-side scripting
the most widely-used programming language on the web (for >40% of all webapps):
Programming languages and scripting languages
PHP is sometimes called a scripting language
A scripting language is a special kind of programming language
A program written in a scripting language is sometimes called a script
So where's the difference?

A script usually drives some other system, e.g.:

A client-side script gets the browser to do things
A server-side script gets the server to do things
A shell script gets the operating system to do things

Scripts usually do this by invoking pre-existing components (which may not be written in the scripting language)
Scripts are often interpreted (e.g. by a module in the browser, server or operating system)

Eek! Does this matter? No. (Not now.)
Static vs. dynamic web pages
Static web pages
HTML is stored in files on the server
A client makes a request; the server retrieves the relevant file from disk; it then sends the content of the file to the client
The only way to change the web page is to edit the file

Static vs. dynamic web pages
Dynamic web pages
Programs (scripts) are stored on the server
A client makes a request; the server retrieves the relevant program from disk; the program is executed; and the output of the program is sent to the client
The output may depend on the date, user input, contents of a database,…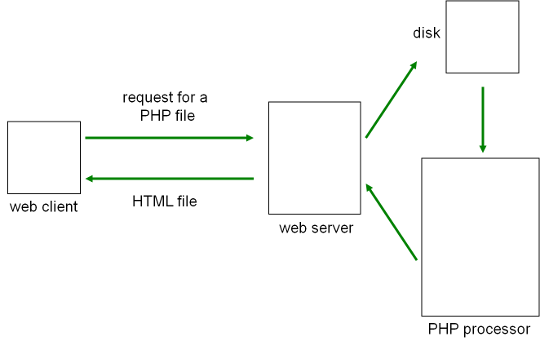 greetings1.php: our first PHP script

<?php 
    echo 'Hello world!'; 
?>
Notes on greetings1.php
Filename extension is .php, not .html
Embed the PHP code between <?php and ?>
Alternatives (that we will not use):

<? ... ?>
<% ... %>
<script> ... </script>

Use whitespace (spaces and new lines) for readable layout
Notes on greetings1.php
echo is a PHP command
It tells the computer to insert a string of characters into the HTML
The echo command (and other PHP keywords) are case-insensitive: echo, ECHO, Echo,...
An instruction such as this:
echo 'Hello world!';
is called a statement
Simple statements are terminated by a semicolon
But greetings1.php is not producing a valid web page!
greetings2.php: our second PHP script

<!DOCTYPE html>
<html lang="en">
    <head>
        <meta charset="utf-8" />
        <title>Our second PHP script</title>
    </head>  

    <body>

        <p>
            <?php 
                echo 'Hello world!'; 
            ?>
        </p>

    </body>
</html>
Notes on greetings2.php
What happen when the user generates an HTTP request to this file (by typing the URL or by clicking on a link)?

Because of the file extension (.php), the server passes the request to the PHP processor
The PHP processor works through the file line by line and handles each line using either

copy mode, or
interpret mode (execute)

The PHP processor's output is sent to the client browser
Notes on greetings2.php
Distinguish:
The PHP script

a mix of HTML and snippets of PHP
since it's not just HTML, probably will not validate

The output of the PHP processor:

just HTML, no remaining PHP
since it's just HTML, this can validate
greetings3.php: our third script, which outputs tags

…
<body>

    <p>
        <?php 
            echo '<strong>Hello world!</strong>'; 
        ?>
    </p>

</body>
Our fourth script (news.php): something less pointless

…
<body>

    <header>
        <?php
            echo date('D F j Y, h:i:s a');
        ?>
    </header>
    
    …
    
<body>
Notes on news.php
This inserts the current date/time into the HTML
The characters inside the quotes say how to format it, e.g.

D - a three-letter day
F - the month as a word
j - the day (1 to 31)
Y - the year (four digits)

Class exercise: Suppose news.php is on our server in Cork. Someone in Australia requests it. Whose date/time do they see?