Party-Party-Party
The site for all your party needs
Mojitos
To bring the spirit of the Caribbean to your party, why not serve Mojitos? Sweet but cool, they're sure to get you in touch with your Latin side.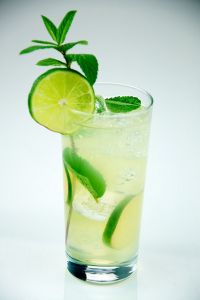 Ingredients
2 oz. white rum
8 fresh mint leaves
4 tsp. sugar
ice
½ lime
7 oz. club soda
Instructions
For the best Mojitos this side of Waterford,
Gently crush the mint leaves in a cool tall glass;
squeeze the lime over the leaves;
sprinkle the sugar into the mix;
fill with ice;
toss in the rum;
trickle in in the club soda; and finally
stir lightly.
Did you know…?
Mojito is pronounced Moh-HEE-toh.
Mojitos should be served in a Collins glass.
Mojitos were a favourite with author Ernest Hemingway. It is said that he enjoyed them at their birthplace, La Bodeguita del Medio in Havana, Cuba.
Enjoy alcohol sensibly.