HTTP
Derek Bridge
Department of Computer Science,
University College Cork
HTTP
Aims:
to know a little about simple HTTP requests that request (static) web pages
to see where DNS fits in
The Web is a client-server application
Web client computers

run web client software (e.g. browsers)
the software make requests for web resources (e.g. HTML files, CSS files, image files, ...)

Web server computers

host web resources (text files, graphics files, programs,...)
run web server software that responds to requests
Ports
One server might be offering ('hosting') more than one service
E.g. a server computer may be running web server software and email server software
How does a client indicate which server program is to handle its requests?
Each server program is assigned an identification number, called a port number
Listening on ports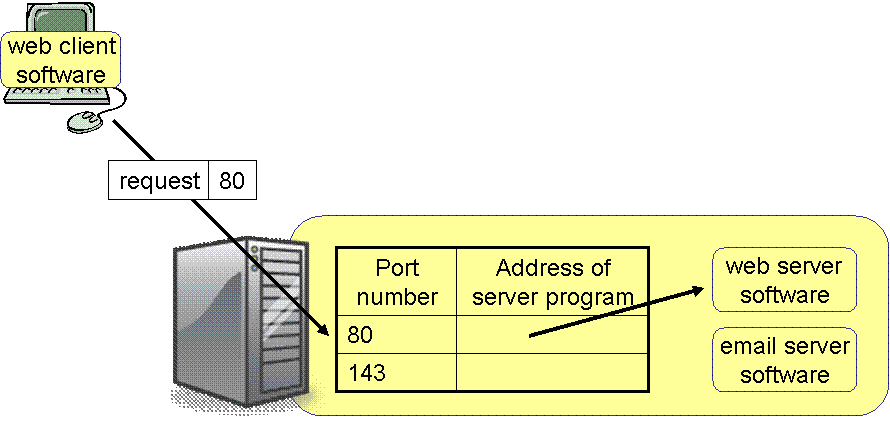 What your browser does when you enter a URL or click on a link...
If it needs to request a new web page, your browser works out:

the scheme (which usually defaults to http)
the server name (e.g. www.rte.ie)
the port number (which defaults to 80)
the pathname of the file you want (e.g. /news/index.html)

Your browser must now send a request to the web server, asking for this file
Question: There are times when your browser doesn't need to do this. Give an example
The request (and the server's response) must be formulated according to a communications protocol (in this case, HTTP)
HTTP requests
Request line (required): command (method), URL and HTTP version number
Request header lines (largely optional): info about date, browser,...
Request message body (optional): empty for most commands (methods)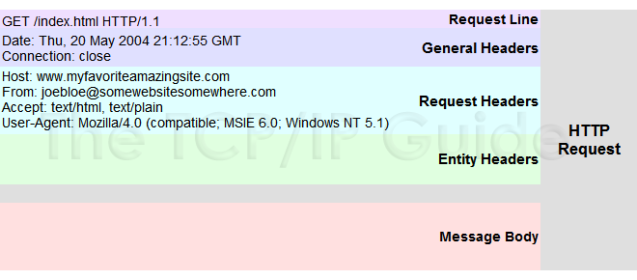 Example HTTP request from The TCP/IP Guide by Charles M. Kozierok
HTTP responses
Status line (optional): HTTP version number, status code, short explanation of code
Response header lines (optional): info about date, server,...
Response message body (required): the requested resource (web page, image,...)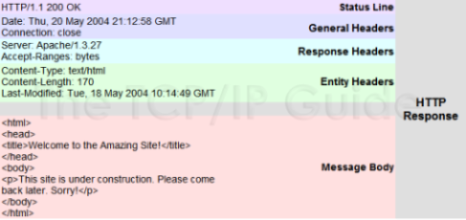 Example HTTP response from The TCP/IP Guide by Charles M. Kozierok
HTTP response status codes
1XX: Informational (used in 1.1):

e.g. 100 Continue, 101 Switching Protocols

2XX: Success:

e.g. 200 OK, 206 Partial Content

3XX: Redirection:

e.g. 301 Moved Permanently, 304 Not Modified

4XX: Client error:

e.g. 400 Bad Request, 403 Forbidden, 404 Not Found

5XX: Server error:

e.g. 500 Internal Server Error, 503 Service Unavailable
DNS
Prior to sending the HTTP request, your browser needs to convert from server name to server IP address
Embedded content
Suppose the web page contains embedded content (e.g. stylesheets, images)
The server does not send all the content in one go
The client receives the web page and then sends separate requests for the embedded content